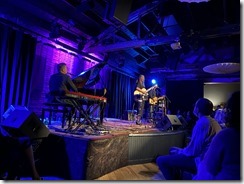 Sometimes it only takes three people to fill a room.
Friday night at Evanston's SPACE club, Joan Osborne was joined by guitarist Jack Petruzelli, who switched between electric and acoustic guitar; and keyboardist Keith Cotton, who alternated between a baby grand piano and an electric keyboard. Combined with their musicianship and Osborne's strong vocals, it was enough.
I know Joan Osborne from her 1995 hit song "One of Us", but she has released ten albums since then and I prepared for this show by listening to them all. Osborne is known less as a songwriter than as an interpreter of the music of others. Her favourite songwriters are Eric Bazilian, with whom she collaborated for many of her early songs, and Bob Dylan. She also has covered many of the great R&B / soul songs of the 1960s and 70s; and many great blues songs over the years.
Friday, she focused on her early works, her newest album ("Trouble and Strife", released during last year's pandemic), Dylan covers, and the blues. It was on her blues numbers that she shined brightest. "She opened with the rousing "My Right Hand"; the opening guitar riff of "St. Theresa" was a dynamic precursor to a dynamic song that energized the sold-out audience; "Spider Web" - funky rocker describing a dream about the results of Ray Charles regaining his vision got us all clapping along.
Osborne changed the arrangements of some of her older songs. "One of Us" was transformed into a haunting ballad; and Cotton's jazzy piano solo in the middle of Dylan's "Tangled Up in Blue" was a delight.
Oddly, there were no R&B or soul numbers, even though these comprise a significant part of her recorded catalog. It may have been because of the stripped-down band (most Motown numbers feature more than a guitar, a piano, and a singer); or she may have simply chosen to focus on other types of music. There was certainly time to add a few more songs, as she played for only about 80 minutes.
She closed with an excellent rendition of Slim Harpo's "Shake Your Hips", bringing extra enthusiasm to her vocals.
It was a short, but sweet show and the audience left with a smile.