Microsoft Teams is a tool for communication and collaboration that is included in Office 365.
You can create multiple teams in the Microsoft Teams software. My organization creates a team for broad interest groups, like "Social" and for each new project. How you organize your teams is up to you and your organization, but here is how to create a new Team.

Launch the Microsoft Teams client.
Fig. 1 shows the Microsoft Teams interface (with my organization's Teams, channel's and conversations covered up).
A menu (Fig. 2) displays along the left side of the screen.

Fig. 2
Click the [Teams] button (Fig. 3) on the menu to display a list of all the teams in your Favorites list.

Fig. 3
Click the [Join or create a team] button (Fig. 4) at the bottom of the screen to display the "Join or create a team" page, as shown in Fig. 5.

Fig. 4

Fig. 5
Click the [Create a team] button (Fig. 6) to display the "Create your team" dialog, as shown in Fig. 7.

Fig. 6

Fig. 7
At the "Team name" field, enter the name of your new team.
At the "Description" field, enter a brief description of your team.
At the "Privacy" dropdown, select "Private" to allow only Team Owners to add new members; or "Public" to allow any member to add new members to the team.
Click the [Next] button to advance to the "Add members to team" dialog, as shown in Fig. 8.

Fig. 8
Here, you can search for people in your organization and add them to the team by clicking the [Add] button. Click the [Skip] button to defer this until later.
The new Team page displays and is selected on the left, along with a default "General" channel, as shown in Fig. 9.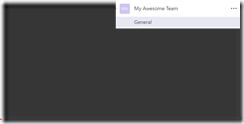 Fig. 9
The "General" channel is shown in Fig. 10.

Fig. 10
Team members can communicate in threaded conversations on the "Conversations" tab, which is selected by default.
Team members can upload files to share them with others on the "Files" tab.
Team members can enter notes on the "Wiki" tab.
In this article, you learned how to create a new team.
If your organization uses Office 365, it is likely that you have access to Microsoft teams. If you do not, call your organization's IT department and ask them: "What's the problem?"