Today, I tried to add a new Outlook contact and was blocked when I attempted to add an e-mail address to the contact. After typing in the address, I received the following cryptic error message: "An Outlook Address Book entry cannot be used as an e-mail address in a contact".
The problem arose because I had the same e-mail address in my "Suggested Contacts" folder.
To view your Suggested Contacts, select "Contacts" from the Navigation pane or press the CTRL+3 shortcut key combination. This view is shown in Figure 1.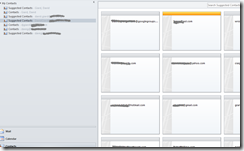 Figure 1
Suggested contacts are populated automatically when you type an address into an e-mail's "To" or "CC" text box. They are used to quickly fill in these textboxes if you send to that same addressee again.
For me, this was hard to find because I use Outlook to manage multiple e-mail accounts and each account has its own list of Suggested Contacts and the Suggested Contact list and the Contacts list to which I was adding were not even associated with the same e-mail account.
I deleted the e-mail address from the Suggested Contact list and I was able to update the contact without error.