Gary Numan was everything I did not expect.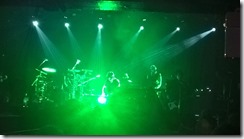 He came to Chicago for 3 nights  at Metro night club in Wrigleyville. Each night he promised to perform a different album from early in his career -  "Replicas" on Sunday; "The Pleasure Principle" Monday and "Telekon" on Tuesday. I chose to attend Sunday because his 1979 album "Replicas" has always been my favourite of his. This was an album I embraced in high school a year before the rest of America learned of Gary Numan with the release of "The Pleasure Principle" and its wildly popular "Cars".
For me, Replicas was always the definitive Gary Numan album. Its layers of electronic melodies and its lyrics about a dystopian future spoke to the adolescent me and the album still holds up decades later.
Numan performed every song from the "Replicas" album and I was impressed by his enthusiasm for songs that he released 3 decades ago.
I don't recall ever attending a concert in which I knew in advance the songs the artist would play. But he surprised us - first by mixing the order of the original album and (more significantly) updating the arrangements.
The electronic music that made him famous is still impressive. "Down in the Park" and "I Nearly Married a Human" featured impressive keyboards and unusual sounds. But, he transformed "Me! I Disconnect From You" from a hypnotic synth-pop tune into a rock song that any post-punk garage band would be proud of. The guitar bass drums came to the fore on a number of his songs, making them more rocking and less ethereal.
I expected a stiff, robotic, stoic Gary Numan - similar to the mannequin pose on the Replicas album cover. Instead, the audience was treated to an energetic performer dancing to his songs and bringing a renewed passion to his old music.
The only downside was the venue. The fact that Metro only accepts cash was a disappointing surprise, but its General Admission format made it difficult for most attendees to see the stage. There are a limited number of tables one can reserve at more than double the GA price and I'm debating doing this when Echo & the Bunnymen play there in the Fall.
But I found a bit of floor space to enjoy the show and enjoy it I did - from the music to the strobe lights. Thanks to Numan's energy this concert exceeded my expectations.