It took me over half a century to make my first visit to London. It took about two months for me to return.
I scheduled this trip to meet with a partner and help them design software for their educational software and to meet with UK teachers to get their input. After making these plans, I learned that a colleague was hosting a Hackfest for one of his customers; so, I was also able to serve as a mentor at that event while I was in London.
1 trip: 2 projects for 2 customers. Sounds like a win!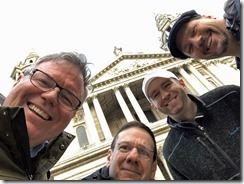 I arrived at Heathrow Wednesday morning and rode the Heathrow Express high-speed train into London with my friend Michael. Michael invited me to go sightseeing with Brent and David later that afternoon. I accepted, even though it conflicted with my initial plan to sleep most of the day. After a brief nap and email catch-up, the four of us visited the Sky Garden observation deck over central London and St. Paul Anglican Cathedral. St. Paul is a beautiful house of worship and I was nearly wiped out after climbing over 500 steps to the top of the dome.
After St. Paul, I said goodbye to Michael, Brent, and David and met my friend Jon for dinner at an excellent Italian Tapas restaurant (I didn't even know Italian Tapas was a thing), where we shared a variety of regional dishes. After dinner, Jon and I walked to the Duchess Theatre to see "The Play That Goes Wrong" - a hilarious farce about an incompetent theater company with very bad luck. It was my first time seeing a show in London's famous West End - an area comparable to New York's Broadway - and I was fortunate to secure front-row tickets.
Thursday was my first client meeting, which lasted most of the day. We did not accomplish everything we intended, but we got a lot done in the 5-hour design session. Thursday evening, I invited Frances, the Partner Manager to join Michael, Brent, David, and I for a dinner of fish and chips.
Friday and Saturday, I attended the Hackfest, where I served as a mentor, assisting customers in building IoT and ML projects. It was a juried event, with prizes awarded to the teams with the best hacks. The Hackfest began on Thursday, so I was a day late getting started, but I was happy to see that, when prizes were announced, the two teams I assisted the most finished in First and Second place.
Sunday was a free day and the Brent, Michael, David, and I took advantage by experiencing London as typical foreign tourists. We began at The Shard, a building named for its unique shape. The Shard offers the highest observation deck in London and spectacular views of the city. From the Shard, we walked across Tower Bridge to the Tower of London. We had heard that Sunday Roast was a British tradition, so we set out on a long and ultimately successful quest that led us to 4 different restaurants before we found our goal. After filling our bellies, we visited the Churchill War Rooms. This is where Prime Minister Winston Churchill and his staff planned their World War II military strategy beneath a government building as the Germans bombed London above. The large space included reconstructions of the strategy rooms, an audio tour, and a museum dedicated to the life of Churchill. After sunset, we then took a cruise along the Thames, which offered beautiful - but chilly - views of the city. We finished the long day with a late dinner before I took a train to my hotel and passed out from exhaustion.
My homebound flight was scheduled Monday afternoon, so I took an hour before heading to the airport to visit the Sherlock Holmes Museum, located at 221B Baker Street, the boarding house where Arthur Conan Doyle's fictional detective and his partner Watson lived, while solving cases.
It's rare that I'm able to pack so much into a work trip, but I was assisted by the planning that others did in advance. I feel that I have a much better feel for London than after my first visit. I've already made a list of things to see on visit #3.