Last month, I wrote about the advantages of the BizSpark program. Here, I will describe how to apply for this program.
There are two ways to sign up: With and without an Enrollment Code. If you don't have an Enrollment Code, your application goes into a queue and is evaluated by someone at Redmond and you will hear back in a week or two with a message indicating whether or not you were accepted into the program. If you sign up with an Pre-Approved Enrollment Code, you can begin accessing your benefits immediately! I or another BizSpark Champion can provide you with a Pre-Approval Enrollment Codes.
Qualifying startups can contact their local evangelist to receive a Pre-Approval Enrollment Code.
Here is the process for signing up for BizSpark.
1. Navigate to https://www.microsoft.com/bizspark/
You may need to log in with a Microsoft account (formerly known as a Live account). If you use Microsoft services, such as OneDrive or Instant Messaging, you already have a Microsoft account; If not, you can get one here.
Click "Join Now".
2. Select Language
The "Language" page displays, as shown below.
Scroll down
    Select a Language from the Dropdown
    Click the [Next] button.
3. Enter Startup Information
The "Your Startup" page displays, as shown below.
Scroll down (again)
    If you have a Pre-Approved Enrollment code, enter it into the "Enrollment Code (optional)" textbox. If not, leave this box blank. NOTE: Although the Enrollment Code is optional, there is a great advantage to having one: a Pre-Approval code will enroll you immediately, instead of waiting a week; and it will guarantee your acceptance in the program.
    Enter the rest of the form with information about you and your company.
    Click the [Next] button.
4. Agree to Terms
The "Agreement" page displays, as shown below.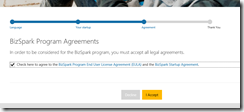 Scroll down (again)
    Click the Checkbox to indicate acceptance of the End-User License Agreement
    Click the [I Accept] button.
5. Confirmation
The "Thank You" / Confirmation page displays, as shown below.
At this point, you should be either enrolled in the BizSpark program or have submitted your application. Those who are enrolled can click "My Benefits" to see how to download software and activate their Azure account and immediately beginning taking advantage of the BizSpark benefits.
It only takes a few minutes to sign up.