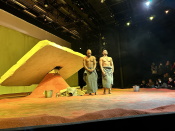 I did not know what to expect Saturday evening at the Court Theatre on the campus of The University of Chicago in Hyde Park. I was only vaguely aware of "The Island" - a play written in the early 1970s by South Africans Athol Fugard, John Kani, and Winston Nthsona.
The two-man play features Ronald L. Conner as Winston and Kai A. Ealy as John - two cellmates imprisoned on an island during Apartheid-era South Africa.
The set was deceptively simple. Although sparse, it was dominated by a large stone wall in the back and a flat slab precariously balanced on a fulcrum in the center of the stage. This slab served as the prison cell, the work area, the hills of the island, and a part of the stage on which the duo performed a play-within-a-play.
The story of the island addresses punishment and hope and friendship. Each of the men is conflicted when they learn that one of them has had his sentence reduced and will depart in a few months, while the other remains convicted for life. The change puts a major strain on their relationship as the two men have only each other. The waking hours of their days consist of meaningless work, followed by brief periods of talking. The monotony is relieved by their rehearsal for the play they plan to perform for other prisoners. They have chosen to perform Sophocles's "Antigone", which gives voice to their message about choosing to obey a higher moral authority while disobeying the law. 
"The Island" is a story of friendship and hope and despair and speaking out against an unjust political system. It sometimes slow in its pacing, but it is strong in its feelings. It is set in the South Africa of the last century; but its emotions resonate here and now.