I was about ten years old when my father took us to see Wayne Newton at the Kennedy Center for the Performing Arts in Washington, DC. At the time, I had no idea who Wayne Newton was, and many of the jokes he told went over my head. I believe I enjoyed the show, but I never expected to see Newton again.
Half a century later, I saw him perform again.
On Saturday night, Mr. Newton sang at the Hard Rock Casino in Gary, Indiana – a rare departure from his residency at the Flamingo in Las Vegas.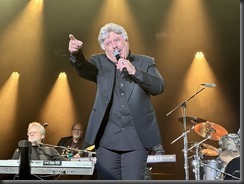 It was not just Wayne Newton on the bill. His old friend Tony Orlando performed a set to kick off the evening.
Orlando rocketed to fame in the early 1970s as the leader of Tony Orlando and Dawn, who released a string of Number 1 hits and starred in a popular TV variety show. Tony has long since split with Dawn, but he began his set this night singing all his hit songs, including opening with his signature tune: "Tie a Yellow Ribbon Round the Old Oak Tree." His band followed these with a collection of hit songs from the 70s and 80s, originally performed by groups like Earth Wind & Fire, Paul Simon, and The Beatles.
Following a brief intermission, Wayne Newton took the stage backed by an orchestra - half of which consisted of local musicians. After decades of Las Vegas residency, he has refined his act to be the consummate showman. Most famous for his singing, Newton also played a variety of instruments, told jokes, and bantered with the crowd. Great stamina and a few cosmetic tweaks (His teeth are so white, they appear to glow) made him appear to defy his 81 years.
Wayne Newton is known for his interpretations of others' songs and he sang many of these tonight, including his biggest hits: "Danke Schoen" and "Daddy Don't You Walk So Fast." A highlight of the evening came when he played a video of the late Sammy Davis Jr. performing live 40 years ago while Wayne sang a duet on stage with the image of the deceased singer. Newton charmed the audience throughout, pointing and smiling at folks and even planting a kiss on two ladies in the front row.
Although Newton was the evening's final performer, the show billed the two as co-headliners. They share a similar career path - from chart success to lounge singer to entertainment icon. They also share a passion for supporting the US Military. In 2000, Wayne took over Bob Hope's role as chairman of the United Service Organizations Celebrity Circle, and the families of military personnel returning from overseas have adopted Tony's "Yellow Ribbon" as their theme song.
I don't often listen to Wayne Newton and Tony Orlando at home, but I have fond memories of their music from my youth. I am glad I had a chance to see them live. Maybe I will see them again in another 50 years.