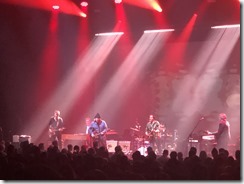 It was their last concert of the year. And their last of the 2010's. And Wilco did not want it to end.
For almost 3 hours, the Chicago-based band performed in front of a sold-out audience Thursday night at the Chicago Theatre - the fourth night this week they did so.
With 16 studio albums, they have no problem finding music to fill a long set. And with styles ranging from alt-country to pop to indie rock to psychedelic, they had no trouble keeping the audience engaged and standing for such a long performance.
They chose mostly slower, softer songs, although they interspersed some heavy metal guitar and drums into the arrangements of some of these songs. For example, on the melancholy "Via Chicago", the singers continued to sing the chorus, ignoring the rythms set by the guitarist and drummer, who suddenly shifted into a death metal sound for a few seconds.
The band's lineup has remained consistent since some turnover around 20 years ago. The original driving force remains in lead singer and songwriter Jeff Tweedy, who fronts the band and related to the audience on a personal level.
Late in the show, Tweedy announced that the band would "pretend to go over there and then come back", suggesting that they were about to play their encores without the usual charade of pretending the show was over. They played 2 more songs, then actually did say Good Night and leave the stage, participating in the ritual of waiting for the audience to call them back for more. The actual encore included "California Stars" (my favourite Wilco song - a Woody Guthrie composition originally recorded as a Wilco collaboration with Billy Bragg) and closed with a cover of John Lennon's "Happy Xmas (War is Over)". For the latter song, they were joined by Sharon Van Etten, who warmed up the audience with a solo acoustic performance earlier in the evening.
It was after 11PM when the show ended, and the audience ventured out into the cold Chicago night and Wilco began their time off until next year. And it was clear they did not want it to end.