I needed a break from work, and I desired a break from the Chicago winter. So, I settled on Los Angeles as a vacation destination. A week in southern California seemed the right recipe for recovery.
Wednesday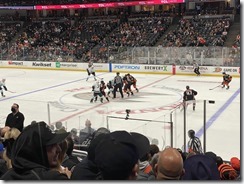 I arrived Wednesday evening and drove straight to Anaheim to attend an NHL hockey game. The Ducks played the newly-formed Seattle Kraken in a matchup that was fun if one-sided (Anaheim won 4-1). The Ducks scored a rare shorthanded goal and each team scored on the power play. I had hoped to meet my friend Hattan for a drink after the game, but an illness in his family forced him to cancel.
Thursday
Thursday afternoon, I met my cousin Bob and his partner Christine for lunch. It has been over 3 years since we have been together, and it was a delight to reconnect. The manager stopped by our table, looking for the owner of an illegally parked car that was preventing anyone from leaving the restaurant parking lot. I was not the naughty parker he was seeking, but I earned his gratitude and a free appetizer by moving my car, allowing others to exit.
Thursday evening, I attended an exciting Chargers-Chiefs game at SoFi Stadium. I had excellent seats at this state-of-the-art venue, and I witnessed one of the most exciting games I have seen in years. It was close throughout and the Chiefs won in overtime on a 34-yard touchdown pass from Patrick Mahomes to Travis Kelce.
On the way home, I stopped at Randy's Donuts, a small stand topped with a giant donut statue that has been featured in numerous movies, TV shows, and music videos.
Friday
Friday was my busiest day of the week. It began at the Getty Museum. Much of the museum was closed for renovation, so we did not stay long and headed north for a meandering drive along Mulholland Drive to take in its scenic vistas overlooking the city. The afternoon included a tour of Warner Brothers Studio. It was interesting, but much of the tour focused on current TV shows with which I was unfamiliar. I would have preferred hearing about a broader time period among the studio's history, which spans over 100 years. In the evening, we attended a concert at the Ace Hotel Theatre featuring bluegrass musician Béla Fleck and a set of very accomplished musicians. It was an excellent show, which you can read about here.
Saturday
After such an eventful Friday, we decided to take it easy on Saturday, walking along Venice Beach and stopping for margaritas and nachos at a seaside restaurant. By the evening, we were ready to go, so we visited The Viper Room to hear 3 different local bands perform. The music was good, and we sat with some interesting strangers - one was a former on-air personality at the local NPR radio station; another did set designs for some famous movies; and another was a sales manager for Salesforce.
Sunday
I planned to attend the Rams-Seahawks game Sunday, but a COVID outbreak among the team forced the NFL to postpone the game to Tuesday evening. Plan B was to rent bikes and ride from Venice Beach to the Pacific Palisades and walk along the Santa Monica boardwalk.
In the evening, we went to Hollywood to watch "Spider-Man: No Way Home" on the IMAX screen at the famous Grauman's Chinese Theatre. The movie was great, and we were able to take in the touristy side of Hollywood, including handprints in concrete and stars on the Boulevard.
Monday
Monday afternoon was spent walking around the area near downtown Los Angeles, including the following:
A ride up Angels Flight, a cable car traversing a steep city block. It claims to be the world's shortest railroad
Little Tokyo - a Japanese neighborhood with many shops and cafes
Union Station - the largest train station in the west. Beautiful architecture.
El Pueblo de Los Angeles - a nice looking plaza with some history of the era when Mexico ruled California
Grand Central Market - a bunch of food stands under one roof. I had a taco.
Bradbury Building - a beautiful old building that has appeared in numerous movies. Sadly, it was closed, but we walked around the outside, admiring the façade.
Tuesday
The flight home was scheduled for Tuesday evening, so we took a drive along the Pacific Coast Highway. As you might guess, this is a highway that hugs the coast of the Pacific Ocean, yielding some spectacular views. We drove up to Malibu and tried to get to Pepperdine, but the campus was closed, so we sat on the beach sipping margaritas and enjoying the view before driving to the airport.
In a surprise move, my ticket was the last one upgraded to First Class, marking a luxurious end to a wonderful vacation. In a more surprising move, I gave the upgraded ticket to my travel companion.
Overall
The hotel in Marina Del Rey was nice and featured a tasty - if overpriced - breakfast each morning.
I was happy to get away from the stress and the cold of my day-to-day life for a few days and sleep in and relax and enjoy the sights. It was good to see parts of Los Angeles that I had never visited; it was good to visit my cousin; and it was good to escape.
It has been a few years since my last visit to LA and I hope to return. Maybe to finally see that Rams game; maybe during baseball season.