The Internet of Things, or IoT, allows you to capture data from devices across the planet and use the power of the cloud to store and manage that data.
Microsoft Azure offers IoT Hubs as a way to capture data from Internet-connected devices.
To create a new IoT hub, navigate to the Azure portal and log in.

Click the [Create a resource] button (Fig. 1) and select Internet of Things | IoT hub from the menu, as shown in Fig. 2.

Fig. 1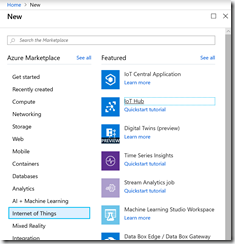 Fig. 2
The "IoT hub" blade displays, as shown in Fig. 3.

Fig. 3
At the "Subscription" field, select the subscription in which you want to store this hub. Many of you will have only one subscription and it will already be selected.
At the "Resource Group" field, select a Resource Group in which to store this hub. You can create a new Resource Group by clicking the "Create new" link and entering a name for the new group, as shown in Fig. 4.

Fig. 4
At the "Region" field, select the geographic region in which you want your hub to be located. Considerations include the location of the devices that will connect to this hub and the location other systems with which the hub will interact.
At the "IoT Hub Name" field, enter a unique name for this hub.
After you have completed the form, click the [Review + create] button. A summary page displays, as shown in Fig. 5.

Fig. 5
If any errors display, click the [Previous] button and correct them; Otherwise, click the [Create] button to create a new IoT Hub. It will take several minutes to deploy all the necessary resources and create this hub.
After the hub is created, you can navigate to it, as showing in Fig. 6.

Fig. 6
The "Overview" blade is selected by default and displays summary information about your hub, as well as links to documentation, so you can learn more about managing and working with this hub.
In this article, you learned how to create a new Azure IoT hub. A hub requires more configuration to be useful. We will cover this configuration in a future article.